Mission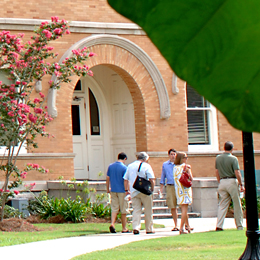 LAICU's major functions include advocacy, research, and information, and coordination of collaborative activities of the nonprofit, private colleges and universities in Louisiana.
LAICU, as the public policy association, represents the 10 regionally accredited nonprofit private four-year colleges in Louisiana in both state and federal public policy arenas as well as with the Louisiana State Board of Regents, its member systems of public postsecondary education, the K-12 State Department of Education, and the State Board of Elementary and Secondary Education.
Purpose
The purposes for which the Association is organized are as follows:
To promote such public policies as may serve to maintain the health and vigor of the independent sector of higher education (hereinafter the independent sector);
To promote and advance the mutual interests of its members; to consider and deal with common problems of the independent sector; to promote activities aimed at enabling the members to operate with greater efficiency and economy; to promote free intercourse among its members and to give proper consideration and expression of opinion upon questions affecting the independent sector;
To acquire, assemble, preserve and disseminate valuable management and institutional information to its members, to work for reasonableness in and for the elimination of unnecessary and unjust regulation by governmental agencies or bodies with regulatory powers; and to mutually resolve all problems affecting individual and general welfare of the membership;
And to do all such lawful acts and things necessary or proper to promote the general welfare of the independent sector and for the accomplishment of any objects herein set forth or which shall be recognized as proper and lawful objectives of an institute; all of which shall be consistent with applicable law and the public interest as well as the interest of the independent sector.
LAICU Student Advisory Council