Centenary College
Centenary greets new academic year with reflection; recognition
September 24, 2018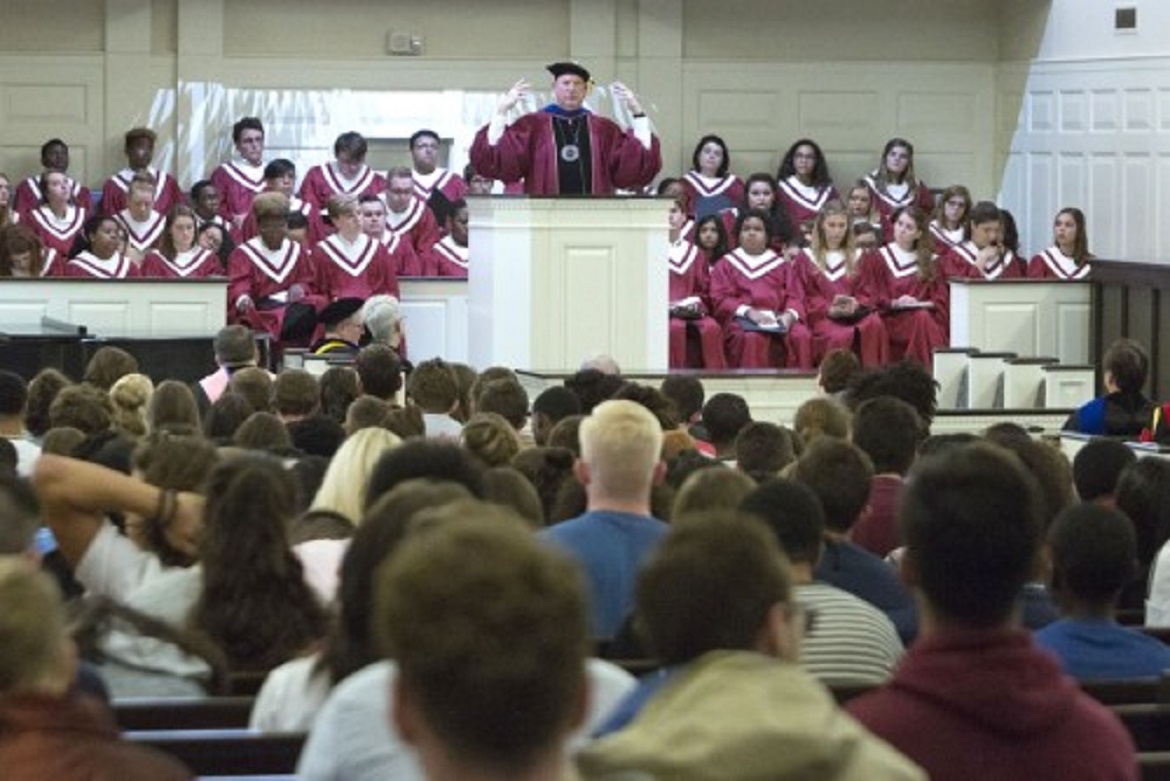 August 30, 2018
SHREVEPORT, LA — Centenary president Dr. Christopher L. Holoman welcomed the Class of 2022 to the College at the annual President's Convocation Tuesday in Brown Chapel, issuing a call to recover the art of storytelling as a powerful form of communication and a tool for making individual and collective meaning. Holoman also connected both attributes of storytelling to essential elements of the liberal arts education offered at Centenary.
"You must learn to tell the story of your education so that it makes sense to employers and others, especially to any skeptics," Holoman explained. "Tell it first to yourself as you put the pieces of your coursework together, make connections, and find meaning. And don't wait – start making your meaning now. Ask yourself how your story will become a part of Centenary's story and, most importantly, how it will change the story of our society."
Centenary faculty and staff gathered last week in advance of the beginning of the fall semester and the official start of the College's 194th academic year on August 27. Holoman presided over the all-campus meeting, welcoming new employees, recognizing personal and professional accomplishments, and providing a "state of the union" overview of the College, including an update on the new campus master planning process. Holoman also presented the 2018 David Womack Leadership Award to Katie Bearden, associate provost for institutional research, registration, and records.
The Womack Award was established in memory of former Centenary Dean of Students David Womack, who passed away suddenly in August 2009. Honoring the example and the memory of the late David Womack, Womack Award winners are chosen on the basis of their leadership skills, their ability to work across divisional and departmental lines, their commitment to and skill at building bridges, and their capacity to be inclusive of all members of the campus community.
"Katie is an exemplar for what it means to model inclusivity and to treat every person with respect. She is acutely aware of the need to balance direction and empowerment in the Office of the Registrar, which she now oversees," said Holoman during the award ceremony, drawing on Bearden's original award nomination. "Using her expertise and demonstrating a commitment to a culture of data integrity, Katie has built bridges between all divisions of the College."
Bearden joined Centenary in 2014 as coordinator for institutional research. She was promoted to assistant provost for institutional research in September 2016 and added the responsibility of registration and records with her promotion to associate provost in November 2017.
"I am truly humbled and honored to be chosen for this award," said Bearden. "I am thankful for the faculty and staff at Centenary who have given me opportunities to serve the College and supported me in my efforts. I'm proud to be a part of the Centenary legacy."
Past recipients of the Womack Award include Dr. David Hoaas, Dr. Chris Lavan, Eddie Walker, Connie Whittington, Mark Miller, Monica Powell, Janet Ingram, and Saige Solomon.
Visit centenary.edu for photos of the 2018 President's Convocation.